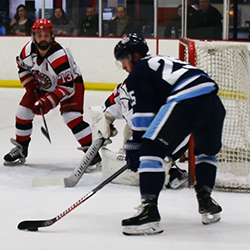 Professional hockey returns to the Mentor Ice Arena as the Mentor Ice Breakers kick off their second season on Saturday November 9th at 6:30 PM. Many of the team members from last year's inaugural season are returning this year including Goalies Derek Moser and John Sellie-Hanson.
The Ice Breakers are part of the Single-A Federal Hockey League (FHL). Teams play a 58-game regular season schedule which runs from October through April.
With so many returning players and Coach Iain Duncan, the team is anticipating improving its 17/35 record. Duncan is happy so much of the team is returning.
"I'm really looking forward to getting back on the ice with this core group of guys," says Duncan, "We started laying the foundation last year, and bringing back a large number of our veterans, who know the system and have the fire and passion to play at this level, allows us to build on that foundation to achieve even greater results."
For tickets and additional information, call (440) 290-8502 or visit mentoricebreakers.com.