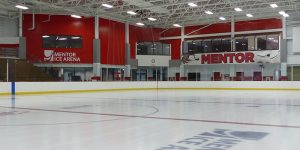 Please call the Arena to set up an appointment to see rinks/rooms and to book. Payment must be made in full at time of appointment.
We do not book on-ice parties (in any rink) May-September and have very limited room rental availability during these months.
RINK RENTALS
Studio Rink Parties
Want a more private party? Rent the Studio Rink and avoid the crowds. The Studio Rink and Studio Rink lobby are great for youth birthday parties. The studio rink is smaller than the East and West rinks and best suited for children under 12 years of age. Price includes studio rink, studio rink lobby area, and private restrooms. Tables and chairs will also be put up at no additional cost. The studio rink holds 25 people. $2 per person skate rental is an additional charge. Children under 11 must wear a helmet while on the ice.
Party times offered most weekends October -April
Saturdays 4:00-6:00PM or 6:30-8:30PM
Sundays 4:00-6:00PM
Call the Arena during business hours to find out available dates and times and to make an appointment to come in
Large Rink Rental
Try something new or entertain your friends or group. Rent one of our large rinks for your school, class, church, scout group, etc. Hourly ice rental applies. Call (440) 974-5730 for more information or to book a party. Ice availability is very limited. (No rentals May-September)
MEETING ROOMS
Located above the Civic Ice Arena, this facility air-conditioned with three rooms of various sizes; the Community Room, Woods Room, and Meeting Room D may be rented together or independently based on your needs. Each room is priced individually per hour with a four-hour minimum rental time. ((Limited availability May-September))
Please, call the arena to set up an appointment to view rooms and to book. All rentals must be done in person and be paid in full upon renting. The Arena doesn't put holds on rooms.
Community Room
The Community Room is the largest room. It overlooks the West Arena and includes a wet bar, dance area and small serving kitchen. It will accommodate banquet seating for 200. Tables and chairs are provided, but set up is done by the renter.
Woods Room
The Woods Room accommodates 100 people. It is perfect for showers, birthday parties and smaller group functions. It includes a small kitchenette with wet bar, refrigerator, and serving counters. The Woods Room overlooks the East Rink. Tables and chairs are provided, but set up is done by renter.
Meeting Room D
Meeting Room D is recommended for small group meetings, seminars or presentations. It can accommodate up to 50 people. Tables and chairs are provided, set up done by renter.
Call (440) 974-5730 or visit the Civic Ice Arena to make arrangements to view the facility in person and/or to complete a rental contract.
Hourly Rental Rates Resident Nonresident
Community Room $70 $85
Woods Room $45 $55
Meeting Room D $20 $25
In addition to the individual room price, a $200 deposit is required for all rentals. A $500 security deposit is required when alcohol will be served. a $35 alcohol permit is required and one (1) off-duty Mentor Police Officer must be contracted by the renter for every 200 guests in attendance. (Officer paid hourly by renter the day of event). Must pay in full at time of appointment.
Please Note:
There is a 4-hour minimum rental required for all rooms. Set up and take down is paid for with your hours. Renters are responsible for setting up and taking down tables and chairs.
These rooms are located above an ice rink. We can not control the noise volume from the rinks below.
Parking is often times limited due to on ice events and other rentals happening at the same time.
All rentals must be done in person by appointment. The Arena's business hours are Monday-Friday between 8:30-4:30PM. Please call to make an appointment. Renter must pay in full at time of appointment. (Hourly rate and security deposit)