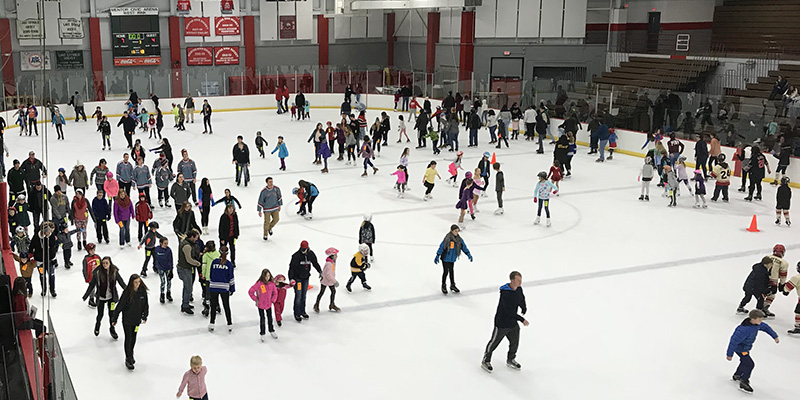 Public Skate Times
October 2023- April 2024
Check our Calendar for our up-to-date Public Skate times and for any cancellations.
Rates
There are no refunds given for Public Skates
Adults $9.00
Youth Under 18: $7.00
Age 65 and Over: $7.00
Homeschool (Fridays): $6.00
Skate Rental: $4.00
All skaters under 11 must wear a safety helmet (or bike helmet) in order to skate. Any child under 14 must have an adult present with them to skate.
Push walkers are not permitted on our large ice surfaces during public skates. Our studio arena (small rink) is open during most weekend public skates (Saturday and Sunday) and push walkers are available then. Push walkers are first come first serve and are only to be used by children ages 8 and under.
There are no refunds given for Public Skates
Homeschool Public Skate
Homeschool public skate is a designated skating session tailored for children who are homeschooled and do not follow a traditional school schedule. This program caters to those seeking physical exercise and provides an opportunity for participants to potentially earn gym credits. Similar to a public skate session, homeschool public skate is open to the broader community, fostering a social and recreational environment while accommodating the unique educational needs and schedules of homeschooled children. It's important to note that homeschool credentials are not checked, ensuring accessibility to all homeschooled individuals, and adults are welcome to join in the skating activities alongside their children.
The Mentor Ice Arena reserves the right to change times or cancel public skates if necessary. For safety reasons, attendance during public skates may be limited .