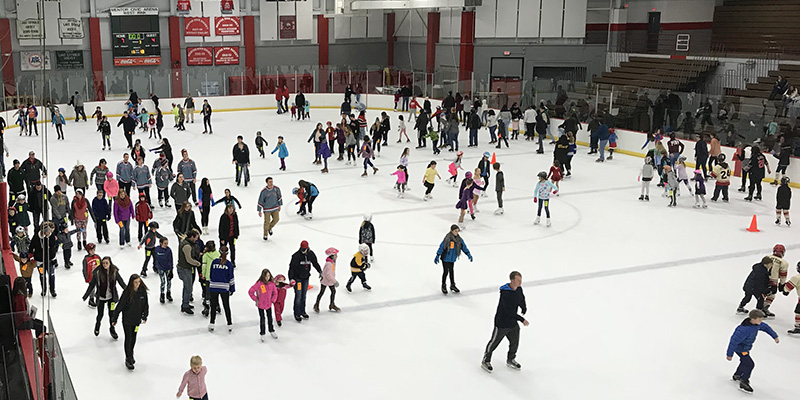 Summer 21′ Open Skate Times
Starting 6.25.21 – 8.13.21 (No Open Skate 7.16.21)
Fridays 7PM-9:00PM
Rates
Adults $6.00
Youth Under 18: $5.00
Age 65 and Over: $5.00
Skate Rental: $3.00
The Mentor Ice Arena reserves the right to change times if necessary. For safety reasons, attendance during open skates may be limited. All skaters ten and under must wear a safety helmet (or bike helmet) in order to skate. Any child ten or under must have an adult present with them to skate.
8 and Under (None scheduled at this time): During weekend open skates, the studio rink is open for children eight years of age and under. Skating assistants will also be available on the studio rink.
Luncheon Skate (None scheduled at this time)
Luncheon skates are a great way to get in a little exercise and have some fun during the lunch hour. The cost is $4. During Mentor Public School closings normal open skate rates apply. Weekdays 12:00-1:30PM during regular season.
Home School Skate (None scheduled at this time)
For those 4 to 17. The Mentor Ice Arena provides ice time for this exciting and beneficial form of recreation for home school children. Parents are not required to skate with children. $5/person (Skates included) Fridays 10:30 AM-12:00 PM during regular season.
Play Date on Ice (None scheduled at this time)
For those 6 and under. Every Friday, Mentor Ice Arena offers a play date for any child not yet in first grade accompanied by at least one skating adult. Strollers are welcome. $4.00/person (skates included) Fridays 10:30am-Noon during regular season.