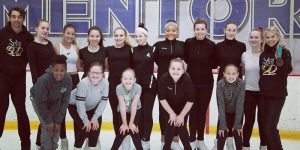 When you are newly entering the world of figure skating there's no doubt it can be overwhelming. You find yourself googling "figure skating for parents and what you need to know." Parents with a child in figure skating who is just starting out may have a lot of questions. Where should your child take lessons? What kind of skates should your child be wearing? What will all of this cost me? How can you help your child succeed?
There is no denying that figure skating is a demanding sport. So, to help you in this new competitive world, we have created the ultimate guide to figure skating. We'll help you understand terminology, training, levels of skating, and the time commitments needed. Use this guide as a way to figure out how to navigate the figure skating world like a pro.
Where to start
Figure skating is a sport with many dimensions and disciplines such as singles freestyle, pairs freestyle, dance, and more. Most young figure skaters starting out will begin in a group lesson environment. The Mentor Ice Arena offers Learn to Skate classes from Learn to Skate USA throughout the year. These classes usually involve skating once a week for 30 to 45 minutes with a group and instructor, and additional practice time outside of class. These classes are a good cost-efficient way to help your child learn to skate. Once you decide to sign your child up for lessons you will also have to register with Learn to Skate USA.